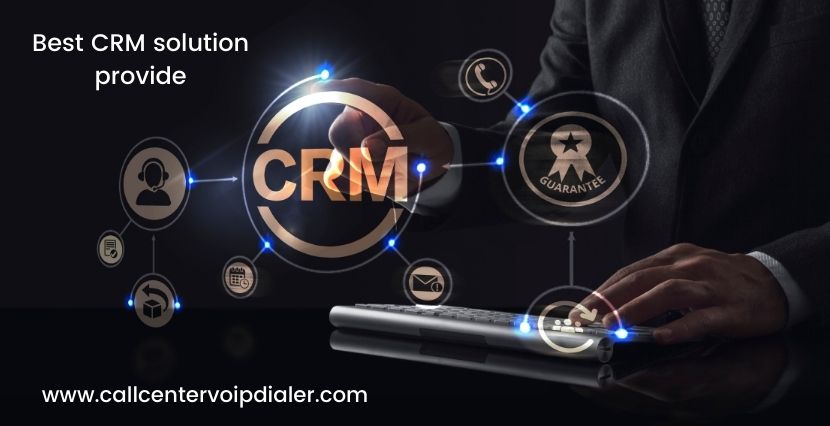 Avyukta e Call Telephony CRM What is CRM Software?

Customer Relationship Management Software (CRM software) is a tool designed to help your organization provide a unique and seamless experience to your customers and build better relationships by providing a complete picture of all customer interactions your sales. You are keeping Keep track of, organizing, and prioritizing your opportunities and facilitating collaboration between different teams.

It is a platform that connects your various branches, from marketing to sales to customer service, and organizes their notes, activities, and metrics into a cohesive system. Every user has easy, direct access to the real-time client data they need. That does not only allow for unprecedented coordination across teams and departments and makes it possible for businesses to offer their customers something extraordinary: a personalized, one-to-one customer journey. Compare this to the limited functionality of older analog and legacy systems, and they have the potential to revolutionize the way you connect with customers. You cannot explain CRM software without considering SaaS and cloud computing, which work together to provide CRM platforms where the user has access to the Internet. Because of these technologies, cloud-based CRM software can expand your business, so every company, no matter the size, can benefit from CRM software.




Powerful CRM Integrations Work Better Together:-

Using the Avyukta Intellicall Cloud Contact Center, telephony controls are integrated into your CRM solution to create a more robust and productive sales, marketing, customer service, support, and ticket management engine. Agents and Supervisors are certified with rich customer data, history, and information to transform the customer experience with each inbound or outbound interaction. Customer Relationship Management (CRM) is the term for creating structured and effective customer interactions. Modern customer relationship management includes various channels and systems or tools for interacting with customers. Customer Relationship Management helps track customer activities and enables conversations and correspondence to be more organized and secure.

Avyukta CRM Features:-

Omni-channel Single Sign-On with Live Location
Target Work Stats for the Month with Priorities and Escalations
Voice-Based Notifications for All CRM Events
Omni Channelled Unified Communication
Sales CRM
Lead Management
Google Modules and Emails Integrations
Attendance, Leave, Task, Salary, Incentive Management Modules
Secure Employee Task Allocation & Management Module, With Customer Details Masking
Custom Client Stages
Auto Triggers for Personal and Complete logout for Idle Users
Events & Meetings
Client CRM Login
Daily Emails for Logins and Logouts with Detailed Task Summaries and Occupancies
25+ Detailed Reporting Modules

Omni channel Single Sign-On with Live Location :-

IP GPS device-based login options for Work From Home, Work From Office, Work from Client Site, with Single sign-on, on Omni Channel Dialer is integrated with Avyukta E Call CRM.

Sales CRM :-

Avyukta E Call CRM, Offers you all Key Areas for Sales Team under a single roof to enhance your sales team's efficiency and productivity with an inbuilt Sales CRM Module.

Lead Management :-

Including the Source of the lead, Cost of the information, which the Super Admin can define.

Custom filtration of the leads can be done in the defined formats, with quick filters. And then select the activity that you want to do with the leads. Like Bulk SMS & Email to leads chosen, as well as Various Campaign options, like Auto Dialling, Progressive, OBD, Press1 & Start Calling for the desired leads in desired campaign To bridge the gap between customer's need & the Products/Services offered by Organisation, you have options like Stage wise Customer Life Cycle/Lead Management, With Auto Stages.

Consisting Complete Details, Overall Customer History, Quick Add or Edit, Upload Options, Desired Details, All Payment Logs, etc. With Super Admin Based, Customization of Customer Stages & Details, as per Desired Stages Addition. With Target and percentage wise, qualified Leads stats check "Where Sales Team / Member Stands" at any time.

Follow Up Calendar to manage date-wise Schedules, Meetings, Events, deadlines, Reminders, etc.

Graphical Leader Board with BDM Wise Lead Costing, Average follow up leads, Total Sales overview, with On-Screen Stats.

Unqualified Leads, which were marked unqualified by other Teammates earlier, Becomes Available to Claim by any other teammate at any time.

As well As Placid Leads (which are not followed up by anyone within a specific time) Can also be Claimed by Any Team member within certain Limits per day as defined by the Super Admin.

All Landing rates defined by Super Admin can be referred at any time to share quotations immediately, even in the middle of a Sales call.

Super admin-based Custom Lead Fields, Employee Task and URL Permissioning with Predefined, Custom KRA Mapping with Hierarchical "Reporting To" Approvals.

Dynamic Auto Proposling, Auto Proforma Invoicing, Invoicing, Auto So A and Dispositions modes, Subscription-based Payment Gateway Integrated Emailers, With 100% Call Recordings and Semi Auditable logging for WhatsApp and Emails

Google Modules and Emails Integrations :-

Sheets, Forms, Calendar, Gmail & Email Integrations, Calendar eventing, and Reminders for follow up, dates, Deadlines, and Tasks

Attendance, Leave, Task, Salary, Incentive Management Modules :-

Remunerations & Employee Register Management Modules with Token & Card system with AHT parameters on Idle, Task Time, Login Logouts, Breaks, and Personal Logouts. Along with Super Admin based Fixed, Incentive, Hourly or Project-based Custom Remunerations on WFH, WFO, WFCS modules

Secure Employee Task Allocation & Management Module , With Customer Details Masking :-

Assign tasks, with masked Contact Information, of any Client, Vendor, Reseller, or Employee, with KRA & project mapping.

Along with Approval Mechanisms and Escalation Event Updates with CRUD options.

Any logged-in Member can assign a task for self or other with Customer ID only, without seeing the customer's complete details, and escalation levels for the task can also be chosen

And for L2 and L3 tasks, the Approval Base Escalation Resolving System from concerned higher authorities is also available for proper Escalation Management.

And once any TaskUpdate is Completed or Paused or Pending, Anyone can see Complete Task Trail by clicking on Task ID.

Custom Client Stages :-

client Staging Bifurcations are available, and These stages can be defined, as per the relevant or custom process, campaign or workflow, Varying with the client to client, For Example, Lead Generation, Qualification, Follow up, Demo Scheduling & Completion, P o C, Customer Closure, Documentation & Onboarding, Pre Sales, Clearance, Setup Installation & Commissioning, Training, Delivery NOC, Client NOC & Cross or Up Sales for Multi Projects

Auto Triggers for Personal and Complete logout for Idle Users :-

Auto triggers for no Mouse Movement, or KeyPress by Idle user, for their System Snapshotting and Personal or Complete Logout, Within custom-defined minutes, as per Admin's Requirement or Desires

Events & Meetings:-

Check-In and Check-Outs can be done with a few clicks, and the meeting time will be added to user task time once the meeting is completed.

Client CRM Login :-

Let's not leave the client un-updated when you do so much for the end client.

Additionally, we believe that a "database" is more important than "revenue." Thus, all new contacts need to be added and mapped with clients or other entities, Such as vendors, Channel Partners, etc., to increase and improve the DB; statistically, No company stores, 90% of company contacts Imagine your DB to have 900% more contacts, for future marketing and other similar activities, with a relevant data.

Second to second updates for your clients, for and on which your team is working, are being displayed to clients, along with their payment, SOA, Commercial, and other histories.

Avyukta E Call Client CRM login, is featured for L1/ L2 support,& Event Logging along with URL/SOA or Ledger & KYC Documentation Support, with Omni Channel Communication Client can view Commercials and Task history, can Upload requested documents or can Raise Ticket . & with Call Buttons, Client can talk directly, in selected Departments With Avyukta, or Your Company Defined Customized call Options Buttons when you give this Avyukta E Call Client CRM to your End Clients.