Cloud Telephony
1 Call Recording
Enable automatic recordings for all inbound and outbound calls. You can configure your SuperReceptionist to record every call (on user consent) in IVR system. This allows you to download single or multiple recordings in future to monitor the quality of support or analyse the log to tell apart customer calls from prospects.
2 Multi Agent Access
With Multi-Agent, you have complete control and access to the database, while your agents can only review their respective call logs, even in your brief absence. This secures customer information; and ensures clarity and focus in resolving customer service complaints.
3 SMS E-mail Notification
Stay up-to-date with email or SMS alerts for new voicemails and customer calls that go unanswered.
4 Unified Management
Unified Management allows you to add or delete forwarding numbers, modify settings, access logs and recordings, from a single panel.
5 CRM Integration
Seamlessly integrate with most popular CRM softwares like FreshDesk, Salesforce, Zendesk and many others to ensure up-to-date records and deliver personalized customer service. With SuperReceptionist, you can streamline valuable customer requests, effortlessly synchronize data, and optimize workflow to incrementally enhance your business efficiency.
6 Advance Call Recording
Automatically route incoming business calls to multiple phone numbers sequentially or simultaneously, until the call is answered. With Advanced Call Forwarding you will be able to define call routing in three unique modes – Parallel, Sequential or Round Robin based on specific criterias like day of the week, timings, geography, caller ID and much more.
What Services We Offer
Easy and effective way to get our services.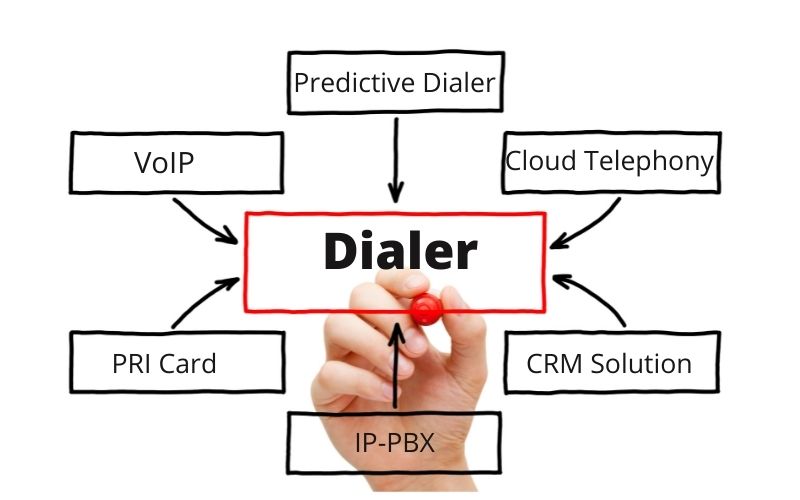 REQUEST A FREE QUOTE Get answers and advice from people you want it from.
Call Us!
Affordable Dialer Services Packages
Choose from affordable Dialer services packages & get the best results in return.
Dialer/ACD/PRI
INR
720

.99
/ month
Rent a Dialer starting at the 594INR
Pay as you go model, opex and risk free.
Purchase a Dialer starting at the 3234INR
Build assets and reduce opex costs.
EMI a Dialer starting at the 990INR
PURCHACE
Unlimited Model
INR
3600

.99
/ month
Upto 4 channels per seat for better pacing.
Fair usage policy applicable
Meant for standard 8-9 hr shift.
NA for PC Support and other lengthy call processes
5544INR as one time setup installation and training charges
PURCHACE
Retail Model
INR
3750

.99
/ month
Pay as you go model.
Similar Models on offer for Australia and Other Destinations.
Best suited for Multiple shift /PC Support / Big Cll Centers.
PURCHACE
Why Customer us!
Do you want to improve the online visibility of your brand and drive more relevant traffic to your website?
tim rijkes /

CEO - Founder

"Here's the story of a lovely lady who was bringing up three very lovely girls. The first mate and his Skipper too will do their very best to make the others comfortable in their tropic island nest. I have always wanted to have a neighbor just like you. I've always wanted to live in a neighborhood with you."

tim rijkes /

CEO - Founder

"Here's the story of a lovely lady who was bringing up three very lovely girls. The first mate and his Skipper too will do their very best to make the others comfortable in their tropic island nest. I have always wanted to have a neighbor just like you. I've always wanted to live in a neighborhood with you."

tim rijkes /

CEO - Founder

"Here's the story of a lovely lady who was bringing up three very lovely girls. The first mate and his Skipper too will do their very best to make the others comfortable in their tropic island nest. I have always wanted to have a neighbor just like you. I've always wanted to live in a neighborhood with you."