IP PBX
An IP PBX is a private branch exchange acts as the central switching system for phone calls in the buisness that switches calls between A Grade VoIP users on local lines while allowing all users to share a certain number of external phone lines. Old PBX is made up of two key elements: lines and stations.
The lines, sometimes also called trunks, are connections to the global public switched telephony network through the telephone companies. Stations are simply a device like telephones or other endpoint devices fax machines, modems. IP PBX Phone systems handle internal traffic between stations and behave as the gatekeeper to the outsider. PRI provide telecommunication services to offices. It based on T-carrier(T1) line in US and Canada,it consist 24 channels and E-carrier(E1) line in Europe consist 32 channels.
What Services We Offer
Easy and effective way to get our services.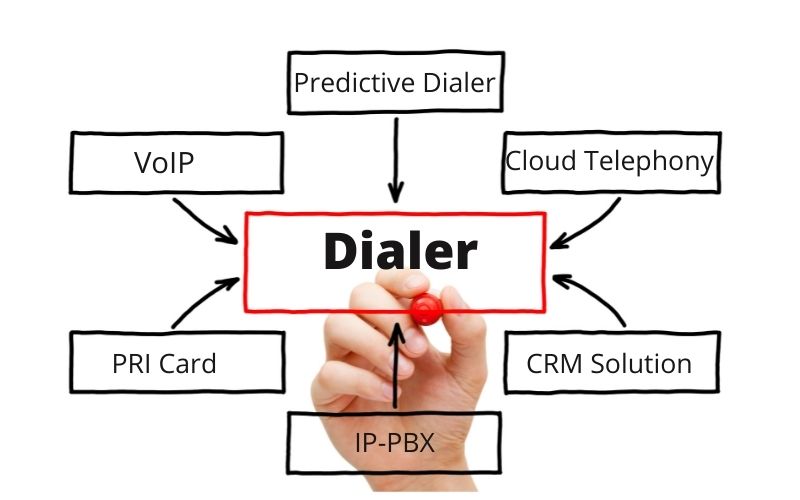 REQUEST A FREE QUOTE Get answers and advice from people you want it from.
Call Us!
Affordable Dialer Services Packages
Choose from affordable Dialer services packages & get the best results in return.
Dialer/ACD/PRI
INR
720

.99
/ month
Rent a Dialer starting at the 594INR
Pay as you go model, opex and risk free.
Purchase a Dialer starting at the 3234INR
Build assets and reduce opex costs.
EMI a Dialer starting at the 990INR
PURCHACE
Unlimited Model
INR
3600

.99
/ month
Upto 4 channels per seat for better pacing.
Fair usage policy applicable
Meant for standard 8-9 hr shift.
NA for PC Support and other lengthy call processes
5544INR as one time setup installation and training charges
PURCHACE
Retail Model
INR
3750

.99
/ month
Pay as you go model.
Similar Models on offer for Australia and Other Destinations.
Best suited for Multiple shift /PC Support / Big Cll Centers.
PURCHACE
Why Customer us!
Do you want to improve the online visibility of your brand and drive more relevant traffic to your website?
tim rijkes /

CEO - Founder

"Here's the story of a lovely lady who was bringing up three very lovely girls. The first mate and his Skipper too will do their very best to make the others comfortable in their tropic island nest. I have always wanted to have a neighbor just like you. I've always wanted to live in a neighborhood with you."

tim rijkes /

CEO - Founder

"Here's the story of a lovely lady who was bringing up three very lovely girls. The first mate and his Skipper too will do their very best to make the others comfortable in their tropic island nest. I have always wanted to have a neighbor just like you. I've always wanted to live in a neighborhood with you."

tim rijkes /

CEO - Founder

"Here's the story of a lovely lady who was bringing up three very lovely girls. The first mate and his Skipper too will do their very best to make the others comfortable in their tropic island nest. I have always wanted to have a neighbor just like you. I've always wanted to live in a neighborhood with you."