Predictive Dialer Software
A Predictive Dialer Software is a computer-based dialing system that has the ability to fast make multiple outbound calls. Predictive dialing is a system of outbound calling that dials without the agent on the line. The system dials the phone, listens and when a live "hello" or short greeting is detected, automatically transfers the call to an available agent. The dialer places numerous calls simultaneously, checking each number for a live "hello" or for another call disposition. If the call is busy, no answer, not working, etc., the dialer either discards or reschedules the call, then dials another number. The dialer is predictive because it anticipates when the next agent will become available, and when the next "hello" will be detected.
Most predictive phone dialers automatically adjust to calling patterns, the number of agents, and the average call length. If calls are short, a dialer should dial more lines. If fewer agents are available, a dialer should dial less frequently. If calling patterns change, the dialer should change with them. It should also be able to handle multiple projects, and multiple calling lists, seamlessly switching between them. Finally, one should be able to modify the frequency with which the dialer "abandons" a call. An abandoned call occurs when a live person picks up the phone, but there are no available agents to take the call. When the person hangs up the phone before the dialer switches the call to an agent, the call is "abandoned". A high quality dialer will automatically adjust the calling rate to minimize abandoned calls and maximize agent talk time.
Predictive dialing is generally used for business-to-consumer calling, where the individual identity of the consumer is not completely relevant to the call. Using predictive dialing, the agent has no time to preview the call before the connection. Additionally, it is assumed that abandoned calls to anonymous consumers do not harm the call centers business. However, because businesses answer their calls with a business greeting and require individual advance preparation, predictive dialing is generally not used to call business customers.
What Services We Offer
Easy and effective way to get our services.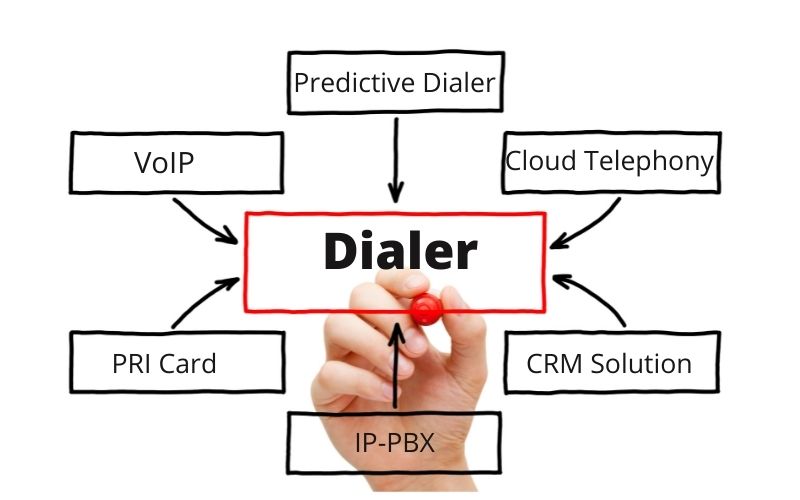 REQUEST A FREE QUOTE Get answers and advice from people you want it from.
Call Us!
Affordable Dialer Services Packages
Choose from affordable Dialer services packages & get the best results in return.
Dialer/ACD/PRI
INR
720

.99
/ month
Rent a Dialer starting at the 594INR
Pay as you go model, opex and risk free.
Purchase a Dialer starting at the 3234INR
Build assets and reduce opex costs.
EMI a Dialer starting at the 990INR
PURCHACE
Unlimited Model
INR
3600

.99
/ month
Upto 4 channels per seat for better pacing.
Fair usage policy applicable
Meant for standard 8-9 hr shift.
NA for PC Support and other lengthy call processes
5544INR as one time setup installation and training charges
PURCHACE
Retail Model
INR
3750

.99
/ month
Pay as you go model.
Similar Models on offer for Australia and Other Destinations.
Best suited for Multiple shift /PC Support / Big Cll Centers.
PURCHACE
Why Customer us!
Do you want to improve the online visibility of your brand and drive more relevant traffic to your website?
tim rijkes /

CEO - Founder

"Here's the story of a lovely lady who was bringing up three very lovely girls. The first mate and his Skipper too will do their very best to make the others comfortable in their tropic island nest. I have always wanted to have a neighbor just like you. I've always wanted to live in a neighborhood with you."

tim rijkes /

CEO - Founder

"Here's the story of a lovely lady who was bringing up three very lovely girls. The first mate and his Skipper too will do their very best to make the others comfortable in their tropic island nest. I have always wanted to have a neighbor just like you. I've always wanted to live in a neighborhood with you."

tim rijkes /

CEO - Founder

"Here's the story of a lovely lady who was bringing up three very lovely girls. The first mate and his Skipper too will do their very best to make the others comfortable in their tropic island nest. I have always wanted to have a neighbor just like you. I've always wanted to live in a neighborhood with you."